Building The Complete Canine Field Emergency Kit
Dr. Joe Spoo, DACVSMR, will help guide you in building a complete field emergency kit that will allow you to address everything from simple injuries to catastrophic issues.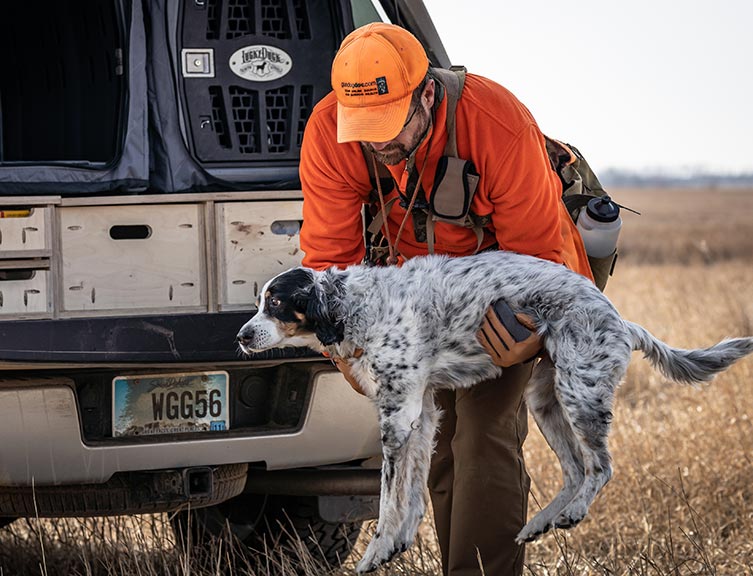 Traumatic injuries are the most common maladies that occur to hunting dogs. Having a properly built first aid kit can mean the difference between hunting tomorrow and a season ending injury.
A good first aid kit is a necessity in order to properly care for wounds in the field. It is also the key to preventing further pain and complications and allows you to stabilize the injury until a more definitive treatment can be performed.
Owners of Real Working Dogs
This kit will allow you to address the issues you're bound to encounter, ranging from minor issues like cuts and bruises to life-threatening injuries and conditions.

The Specialist Hunting Dog
Is your dog the master of its trade? A Chessie that retrieves late-season mallards, the setter pointing quail, the springer chasing pheasants…while the hazards may seem more limited they are there and real and this video series is for you.

The Generalist Hunting Dog
Is your dog a jack-of-all trades? Sitting in the duck blind in the morning, pheasants midday…maybe a rabbit somewhere in between. These do-it-all dogs have it all happen to them and this kit is one you won't want to leave home without.

The Competition Dog
Do you and your partner spend more time chasing ribbons than birds? The hazards are the same and the injuries too. This video series will keep your partner in the field whether you follow on horseback or handle in a white coat and everything in between.

Build a Complete First Aid Kit
You'll be putting the components together of a truly useful first aid kit with links to many of the products included.. This kit won't contain a lot of useless fillers. Just useful tools, medications and supplies.

Introduction
Learn what's important to understand before you even begin building the kit and the theory behind this kit.

Tools
Do you need a skin stapler? How about a needle driver? In this video we will break down what tools you will want to carry in your kit.

Wound Care
Whether you are dealing with a blown foot pad or a major fence cut we will have you "covered" after watching the wound care video.

Medications
You don't need to bring the whole pharmacy every time you go out in the field. We distill down the medications you do need to carry in your kit.

The Vest Kit
In addition to building a kit to have at your vehicle we will also go over a stripped down version to carry with you in the field.

Conclusion
Now that you have the kit together we will go over some key points about keeping it together if you encounter an emergency in the field with your dog.
Meet the Gundogdoc
Dr. Joe Spoo DACVSMR
The original GunDogDoc, Dr. Joe Spoo is a veterinarian of small animal medicine with a special passion for sporting dogs and, more specifically, the gundog breeds. He believes in a cradle-to-grave approach to managing the canine athlete over the course of its lifetime rather than just focusing on the problem of the moment. Dr. Spoo is board-certified by the American College of Veterinary Sports Medicine and Rehabilitation and is one of only a handful of such specialists in private practice in the world, and the only one whose primary focus is hunting dogs. In addition to practice, Dr. Spoo also has numerous research publications to his credit as he pushes to advance the field of veterinary medicine. In addition, he is an invited speaker to state and national veterinary meetings as an expert on the subjects of canine rehabilitation and sports medicine. For more than a quarter century Dr. Spoo has been treating hunting dogs with all manner of injuries and conditions and over that same time frame he's chased his own dogs, that have included retrievers, setters and spaniels, all over the Midwest in pursuit of birds and the very rare ribbon.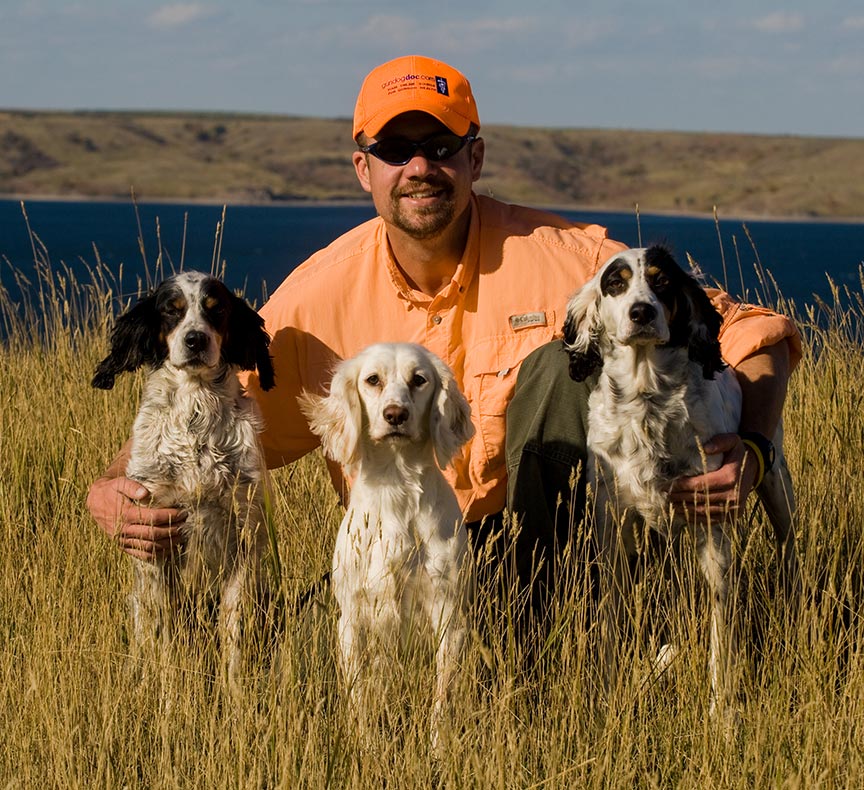 Sign-up Today
Get Our Free Course Delivered to Your Inbox Today
Don't wait until you have an emergency. Sign up for our course today and have your first aid kit fully stocked and ready to go. Your dog is counting on you.